In 2017 the world celebrated 200 years since the invention of the bicycle, which was considered an advanced branch in transport & development, along with being a mood changing sport. The importance of health and sports is a rare conversation topic within Sudanese women circles, especially in a society that usually considers sport as a domain for males and masculinity. Nonetheless, there has been a growing movement of women who can be seen walking early mornings or evenings solo or in groups along Nile street, or in gyms and with friends in zumba, yoga or aerobics studios.
A new movement of female cyclists, aptly named the 'Sudanese Female Cyclists Initiative' is using social media platforms such as Facebook to raise awareness on health and environmental issues that the current ways of transportation have on our societies. Rowaida Ibrahim and Enas Muzamil are the two young ladies who spearheaded the movement, striving to unchain societal shackles that govern women's behavior hindering their development and forage into public spaces. The initiative aims at highlighting the ways that bike riding could be a perfect transport vehicle that's good for health and better for the environment. By gaining support, they hope to inspire localities to install bike lanes to encourage more bike-riders to ride safely.
Aside from biking being a great enjoyable sport that could be practiced alone or within a group, it can also be a practical solution when it
comes to moving across smaller distances, and a cost-effective way in light of the hikes in transport fees over the last few months. Wafa, the youngest member of the initiative added, "I heard about the initiative on Facebook, and my uncle supported me with a bike. A lot of friends criticized me but I ignored them. My routine has changed with this new hobby, and I advice all girls to try it, it's so much fun."
The initiative is receiving a lot of positive and negative responses, but a lot of support was gained since it started, Rania Muzamil shared her own experience saying "people consider biking as a male sport, and they kept on fighting this issue from many perspectives. We are trying to spread the positive impact of biking as a healthy and cheap way of transportation. We gained a lot of support from the Netherlands Embassy and other embassies, and they organized a lot of events for us, which helped in spreading the idea and people started to know us more. Biking makes us happy and we get to meet new friends".
The founder of the initiative, Enas Muzamil is a graduate of the University of Khartoum with a degree in Agricultural Economics and interest in volunteer work. As a student she used to work with different organizations and around her neighborhood to raise awareness about education and literacy. We met Enas to learn more about her, the initiative and the message of the biking movement.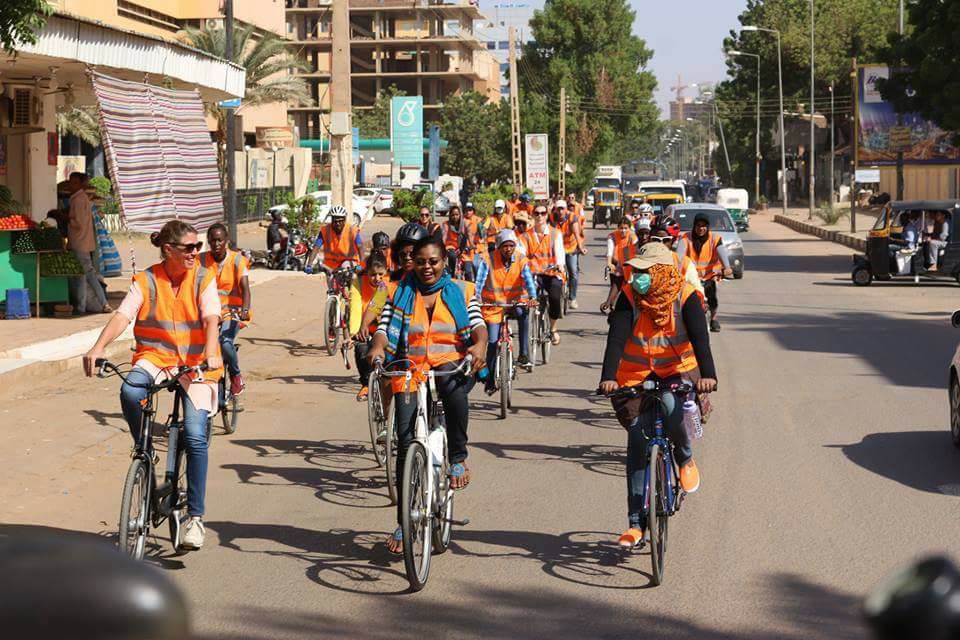 Source: Sudanese Female Cyslists on Facebook
Hend Saleh: How did the idea of the Sudanese Female Cyclists Initiative come up?
Enas Muzamil: I grew up in Libya and when I was still young, I used to bike a lot, so I was sad when I was forced to quit biking when my father decided that I've grown enough to not ride a bike - because I'm a girl. I watched my bike get taken away and given to my cousin. My mother tried to comfort me in all kind of ways, but I was so attached to my beautiful red bike. I grew up with sisters, so I never understood that some things were considered boys stuff; like biking for example.
Fast forward to living in the Netherlands, where I saw how women could ride bikes and there wasn't any discrimination, I felt amused when I rode a bike for the first time in Amsterdam with many women around me and it felt as a normal right.
HS: Tell us about your time in the Netherlands?
EM: It all happened through a coincidence, I was supposed to go on a course trip to London and I had to stop in the Netherlands, but as soon as I got there I loved the country especially that I was hearing a lot about the beauty of Amsterdam since I was in Sudan. I decided to stay rather than complete my journey to London. It's a wonderful country and surprisingly it's where the number of bikes outnumbers the population count; people almost use bikes for everything, even the prime minister would ride a bike to his office. I recently started working with Radio Netherland World Wide in the Arabic department, working on the freedom of media and freedom of expression. For the past four years I've been living between the Netherlands and Sudan.
HS: What was the reason for starting a female biking initiative?
EM: It all started with a personal interest, because I was in love with this hobby, and I was pleased with the support I got from my mother, sisters and friends, even the ones who belonged to conservative families and still broke the rules and stood by me. Personally,
as a development practitioner who works on gender issues, with much interest towards environment and health, and with the lack of interest in sports I found that biking is as an ideal solution. Bikes are fast and don't have parking issues, and of course consume zero fuel.
The female biking gatherings have been great; I'm happy with what we've accomplished so far and the support we received on media and social media. Supporters saw the initiative as something bright and positive feedback was more than the negative one. For all of those reasons, I started the initiative to contribute to the society through something new and definitely useful.
HS: The slogan of the initiative is "my bike, my environment", tell us more about it?
EM: The bike - unlike cars - consumes zero fuel, and with problems facing the planet today such as climate change, there is a movement towards sustainable cities which aims to cultivate a healthy way of living. The healthy lifestyle should aim to lessen air polluting issues, thus the bike is one of the solutions. Our slogan goes beyond the bike targeting personal benefits or as a way of transportation. By highlighting its positive environmental impact, we are showing that we're aware of environmental issues surrounding us.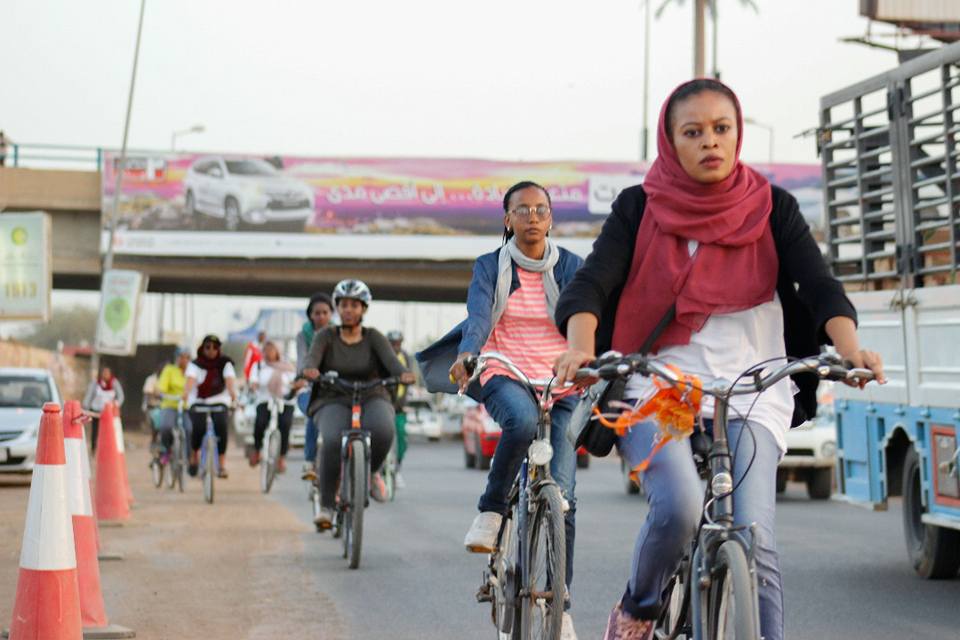 Source: Sudanese Female Cyslists on Facebook
HS: How can this initiative impact Sudanese females and what would you say to advise girls to open up to such ideas?
EM: The girls taking part in the initiative used to be shy and insecure about biking, but this changed when they started practicing more and more, and they became more confident, participating in a lot of events so far. One of the most important things is having younger girls joining the initiative, because this generation will be more open, exposed and unstoppable.
For the girls who want to make change and feel underpowered, I would advise them to not listen to toxic people who drag them back with their talk. If they have enough interest and are convinced by the idea they should start and they'll never be alone, there will always be people who will support them, but their biggest support is their faith in themselves.
HS: Who supported you when you decided to take on biking?
EM: As part of my personality, I didn't consult anyone. It took me a long time to find a girl's bike, and then I decided to go biking in the Green Yard for the first time on a Friday. The moment I hopped on the bike on the way to the Green Yard I was faced with surprising looks and condemnations. The same reaction continued inside the green yard. It was a memorable day that I shall never forget.
There are a lot of crossed lines when it comes to biking; society considers it for poor people, the super sporty ones or foreigners, which overtime made it hard for them to accept it as a casual form of transportation.
Historically in Islam there are a lot of stories about women who used horses and camels for transportation. Here in Sudan women drive cars; so why is it so unacceptable for them to bike?
HS: How has your experience of starting the initiative and gaining tremendous support from people, embassies and media impacted you personally?
EM: It brought back my faith in myself; knowing that although there are major difficulties and issues, there are people who understand the importance of something that's possibly considered unimportant. It is way more than a girl riding a bike on the street; this act is faced with societal pressure and insulting comments. While biking is seen as normal for boys, girls had to fight to convince their families with the idea itself, and it's important to know that once you take a right which is stolen from you, it's hard for it to be taken back from you again.
HS: What are your future plans for the initiative?
EM: We are working on promoting bike riding and currently working on registering a youth organization to hold more activities. We are also looking forward to engaging different communities and neighborhoods, and promoting the initiative in other states as well. We want to be part of any activities related to "clean and green" lifestyle and we're currently holding meetings on raising awareness of our members about environmental issues. We are trying to increase the number of girls who are interested and help them take action and go forward with practicing biking. Finally, we are creating new and unusual ideas to take girls and women out of their comfort zone and push them to engage more in major and minor issues in Sudan. We hope this could be a hopeful start to help women take leaps into starting their movements by bringing useful ideas that encourage them to take steps to achieve better results that can impact them and society, because a powerful society can't be made with women stepping in.
You can find the Sudanese Female Cyclists Initiative on Facebook.